About Us!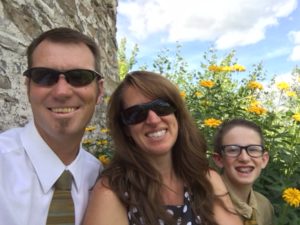 Dale Jackson Custom Building, LLC has been around since 2003.  Dale has been building in the Angel Fire area long before that. He started as a laborer in the construction industry.  Before he got the "building fever", he was a juvenile therapist in California and New Mexico. Dale worked his way up from labor to job foreman. He and his wife, Heather, had their son, Duncan in 2003 and 2 weeks later started Dale Jackson Custom Building! If building wasn't enough, in 2015 Dale and Heather decided to add spray foam insulation to their busy schedule!
When you hire Dale Jackson Custom Building, LLC you get  someone who really knows construction from the bottom to the top. I'm sure your dream home can be put into reality. Dale will be with you from the beginning planning stage, where you'd like to brain storm and figure out which ideas will work, all the way to handing you the keys to your new home.  Dale will be the tool you need to design and build the perfect home to suit your needs.  From ordering the first truckload of concrete to the final light, he can bring your imagination to life.
Building homes isn't the only thing Dale can do. He can add on to your existing home, build you a garage, change out your windows, repair your deck and/or re-roof your commercial building….just a few examples. He'd be happy to help with any of your building needs.
email Dale at dalejacksoncustombuilding@yahoo.com
or call at 505-603-9436 (cell phone) 575-377-2826 (office phone)
                                                                "Make Your Mark On The Mountains"